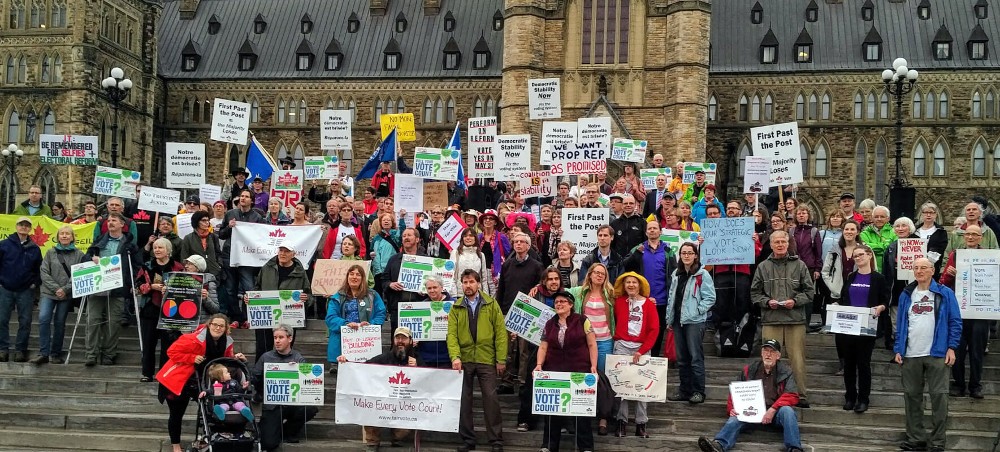 By taking this action, you are agreeing to receive campaign updates and our privacy policy . You can unsubscribe at any time.
We the undersigned Canadian citizens demand the following basic democratic rights:
to cast an equal and effective vote and to be represented fairly in our federal and provincial legislatures, regardless of one's political beliefs or place of residence;
to be governed by fairly elected legislatures in which the share of seats held by each political party closely reflects the popular vote;
to be subject to laws legitimately approved by a majority of elected legislators representing a majority of voters
The current winner-take-all voting system is absolutely inconsistent with these fundamental democratic rights. As a result, Canada is faced with a spiralling democratic deficit. We want government that represents the political and social diversity of the country.
The need for reform is urgent. We demand the reform of our electoral systems at the federal and provincial levels, based on public consultations to amend the Canada Elections Act and equivalent provincial legislation to incorporate these vital democratic rights.
Déclaration des droits des électeurs en matière de représentation proportionnelle
Nous, soussignés, citoyens canadiens, demandons l'application des droits démocratiques fondamentaux suivants:
à chacune et chacun, d'enregistrer un vote de valeur égale et effective et d'être représenté équitablement au sein de nos assemblées législatives fédérale ou provinciales, peu importe notre orientation politique ou lieu de résidence;
d'être gouvernés par des législatures élues équitablement pour garantir que la part des sièges accordée à chaque parti politique respecte fidèlement le vote populaire;
d'être assujettis à des lois approuvées de façon légitime par une majorité des élus représentant une majorité des électeurs.
Le présent mode de scrutin majoritaire uninominal à un tour est en contradiction absolue avec ces droits démocratiques fondamentaux. Nous faisons face ainsi à un déficit démocratique en spirale et devons prendre les mesures pour assurer que nos assemblées législatives reflètent la diversité politique et sociale de notre pays.
Le besoin de réforme électorale est criant. Nous exigeons la réforme de notre système électoral aux niveaux fédéral et provincial en s'appuyant sur des consultations publiques et en amendant la loi électorale du Canada et des provinces pour y incorporer ces droits démocratiques fondamentaux.