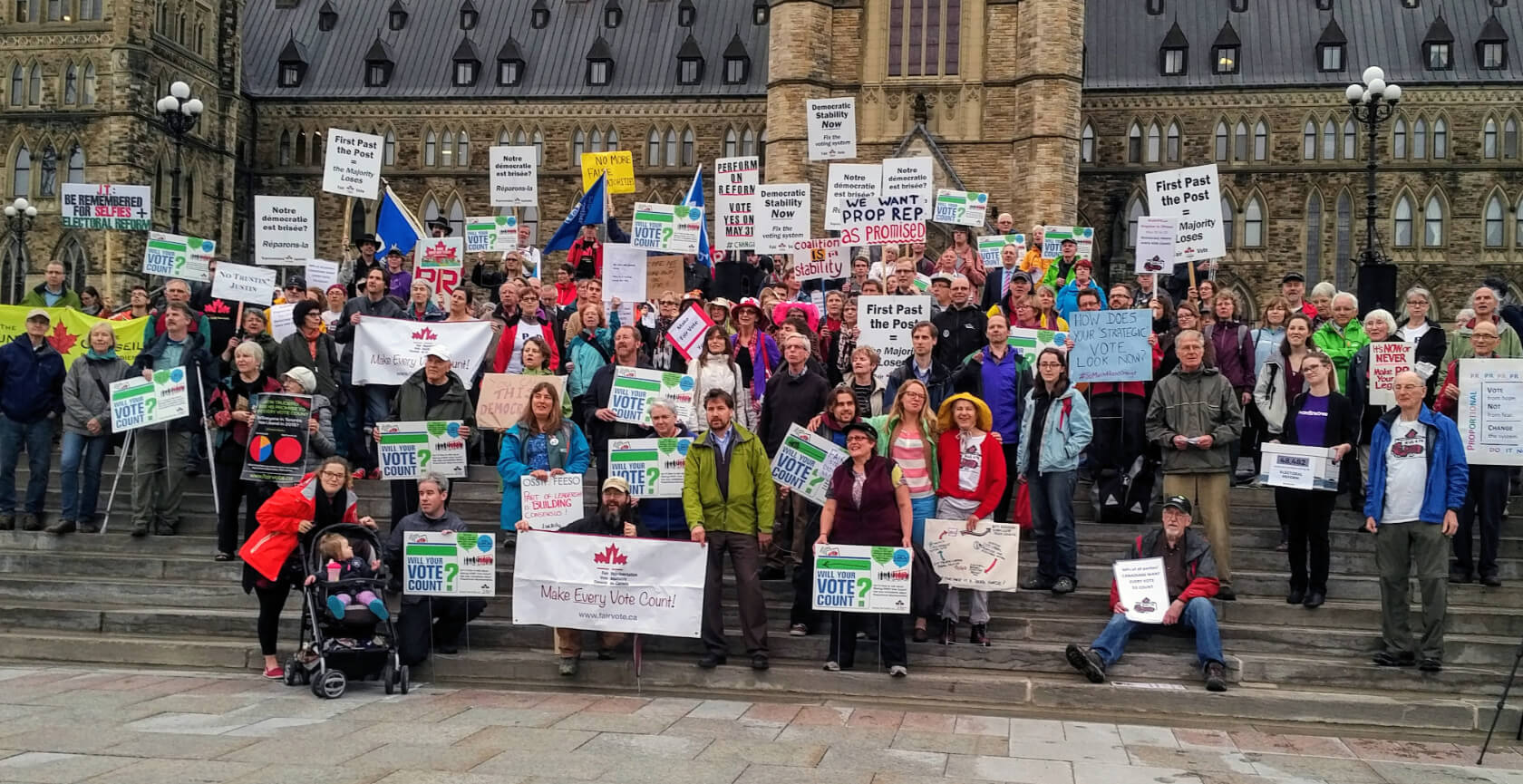 BACKGROUND
In 2015, three parties promised that 2015 was the last election using first-past-the-post and the new government would "make every vote count" in 2019. Canadians were also promised evidence-based policy on electoral reform. Put together, this only equals a proportional voting system - which is what 88% of the experts who testified to the federal electoral reform committee recommended.
Justin Trudeau's Liberals - who formed a majority government with just 39.5% of the popular vote - broke their electoral reform promise. Promises matter. This promise continues to matter to MANY people - more than ever.
We who support proportional representation HAVE NOT GIVEN UP.
AS A CANADIAN VOTER, I PLEDGE:
I won't vote for an MP who supported breaking the promise to Make Every Vote Count. In 2019, I'm voting for proportional representation.
RAPPEL
En 2015, trois partis ont promis que les élections fédérales ayant lieu cette même année seraient les dernières à se tenir selon le système majoritaire uninominal à un tour. Le nouveau gouvernement allait "faire compter chaque vote" en 2019. On a aussi promis à la population canadienne que les politiques établies en matière de réforme électorale seraient basées sur des preuves. Ces promesses réunies ne peuvent signifier autre chose qu'un système de représentation proportionnelle.
Les promesses, ça compte pour quelque chose! BEAUCOUP de gens ont toujours à coeur cette promesse, maintenant plus que jamais.
Nous, qui appuyons la représentation proportionnelle, N'ALLONS PAS LÂCHER PRISE!
Je m'engage!
Je ne voterai pas pour un député ou une députée qui a appuyé l'abandon de cette promesse de faire compter chaque vote. En 2019, je vote pour la proportionnelle.